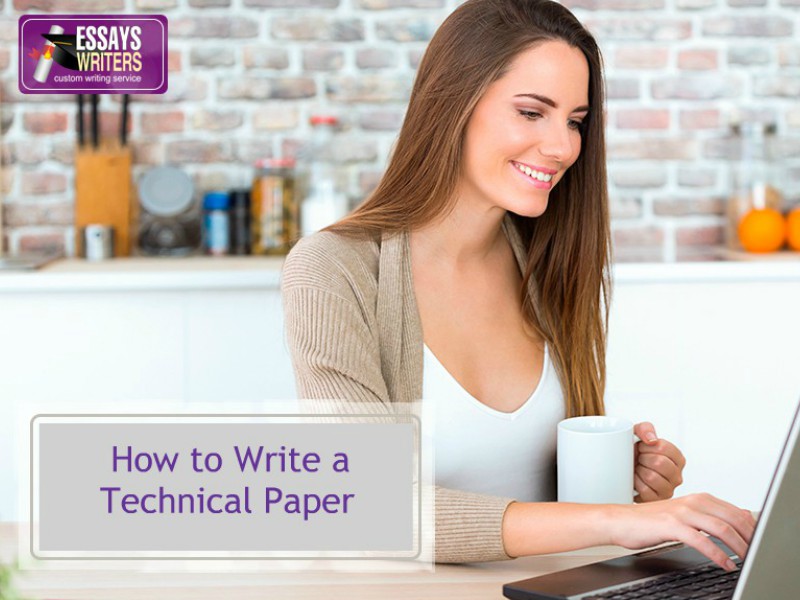 Many students, pursuing a career in a technical sphere, need to know a few effective secrets facilitating their academic life. If you are one of those individuals experiencing significant difficulties with writing such papers, feel free to read the following article. Some students mistakenly believe that such papers do not require special writing skills. However, he/she should realize that this approach is totally unacceptable if the student wants to achieve success. Usually, to get a positive grade for a technical paper, the student should devote much time and effort. Indeed, good papers always serve as the indicators of a writer`s ability to think critically, overcome challenges, and demonstrate dedication and persistence. If you are interested in improving your academic reputation, do not hesitate to learn the effective secrets presented in the current article.
How to Write a Technical Paper
The fundamental aim of the person writing a technical paper is to suggest a new approach or change the common opinion on a certain problem. Therefore, it is obvious that the technical writer should clearly understand the message conveyed and developed in the paper. Trying to pursue his goal, namely increase the awareness about the problem, the writer should use multiple tools. In general, working on a certain problem, you need to persuade your audience that the topic is interesting; that it requires an efficient solution, and that you managed to solve it effectively.
One more secret of successful writing of a technical paper is the work with your audience. Before writing the paper, think about the people who will your work. What are their needs, motivations, beliefs, and preferences? We assure you that once you know this information, you will find it easier to move to your point. If you are allowed to choose the topic on your own, try to select something relevant and interesting to your audience. Your audience wants to know that you have chosen something that will have theoretical and practical application. If there are some terms, which can be unknown to your reader, do not forget to explain them. Always keep in mind that you are writing not a simple essay but a technical paper.
Each paragraph of the technical paper should be meaningful and answer the questions what and why. Do not overburden your paper with unnecessary details to not let your reader get bored. Indeed, both questions of what and why are equally important. To reach your goal, be sure to start with what, but do not forget about why. As such, explaining the principles of the program`s work, do not hesitate to mention why it works in such away. Following this college research paper example, presenting a certain figure, you should not only focus your attention on what this figure says. As a writer, you have to ensure that your reader acknowledges the implications of this figure and does not have any questions.
What Details Should Be Included in Your Paper?
Remember that each part of your paper should be dedicated to a certain idea or fact. If some of your paragraphs do not follow this rule, just delete them. Each fact or detail should be relevant to your topic, otherwise, you may forget about the desired grade. Be sure to provide as many details as possible, but do not dwell on them too much. Remember that a balance is a way to your success.
If you discuss the effective approach, you may also mention the approaches, which were not that successful. However, what is more important, be sure to mention why they were not successful, as it is essential information. If there are several approaches to the problem, start with the most effective one and finish your paper with the least effective one. This tip will help you to play with the reader`s attention when it is the most active. The same rule applies to the details. Start with the most vital ones, the less important ones should go afterward.
Organize the Working Process Properly
One of the most crucial aspects of writing a good technical paper is the proper organization of the working process. Thus, there are several steps, which will facilitate this process:
Avoid procrastination. Indeed, it is one of the most powerful enemies of a successful student. Once you get the topic, do not waste time and start researching. This simple secret will help you settle the working schedule, avoid possible risks, and meet the deadline.
Choose a good topic. Choosing the topic, you may be guided by several factors. First, keep in mind your subject. Second, think about its relevance. Last but not least, consider its theoretical and practical value. If you experience some difficulties at this stage, do not be afraid to ask your professor for assistance. Choosing a topic is a very important step, and there should not be any mistakes.
Gather as much information as possible. Undoubtedly, writing a technical paper requires much more effort than writing a simple essay. You need to consult numerous books, articles, and dictionaries to understand your topic well. Without this understanding, you will not be able to present it to your audience. When copying the ideas of other researchers, do not forget to mention the bibliographical information about the source since it will help you to avoid the problems with creating the reference list.
Work on your thesis. Any academic paper should have a strong thesis, and a technical paper is not an exception. A thesis is the main statement, which defines and outlines your research. It should not be the sentence, which is already proven. This statement should be controversial and thought-provoking. In other words, in your paper, you will have to prove or disapprove of it.
Write your rough draft. After some time of brainstorming, write down the key ideas and calculations. At first, they may be written chaotically, but later, you will organize them properly. Work on the sequence of ideas keeping in mind that the most powerful ones should go first.
Once you have an understanding of the organization of your ideas, start working on the final draft. Be sure to begin your paper with a good introduction, which would outline the area of your research and catch the reader`s attention. Your introduction should include a thesis statement created at the beginning of the writing process. Besides, some writing styles require writing an abstract. The main body of your paper should include several paragraphs. Their size depends on the overall size of the paper, but make sure to discuss different points or approaches in different paragraphs. This secret will help your reader to navigate through your ideas without any effort. A conclusion is a particularly important part of your essay, which provides the reader with a clear understanding of the relevance of your research, as well as its theoretical and practical value.
Once the paper is written, read it aloud and proofread it to avoid possible mistakes in calculations and grammar errors.
Do not Forget about Formatting
You may be a good writer, but if you do not format your paper according to the college paper format requirements of the writing style, you will never get the desired grade. First, find a good manual of the style you work with and learn carefully the information about the headings, sub-headings, margins, etc. Besides, it is no secret that working on your paper, you will refer to some outside sources. Do not forget to cite them properly. Each style has its own citation rules, and you should learn them to avoid plagiarism.
Watch Your Writing Style
First, passive voice is unacceptable in technical writing and most of the professors do not tolerate it. Thus, use active voice whenever it is possible. Second, using the first person is also a very rare practice when writing a technical paper. Also, do not forget about transition words, which will make your research smoother.
In conclusion, it should be said that writing a technical paper is not that scary as it may seem. If you are a goal-oriented student who realizes that a good academic reputation is a wise investment into your career, you should not neglect any of the tasks assigned at your college or university. Learn how to write a technical paper and remember that every skill or competency acquired during study makes you closer to your goal!