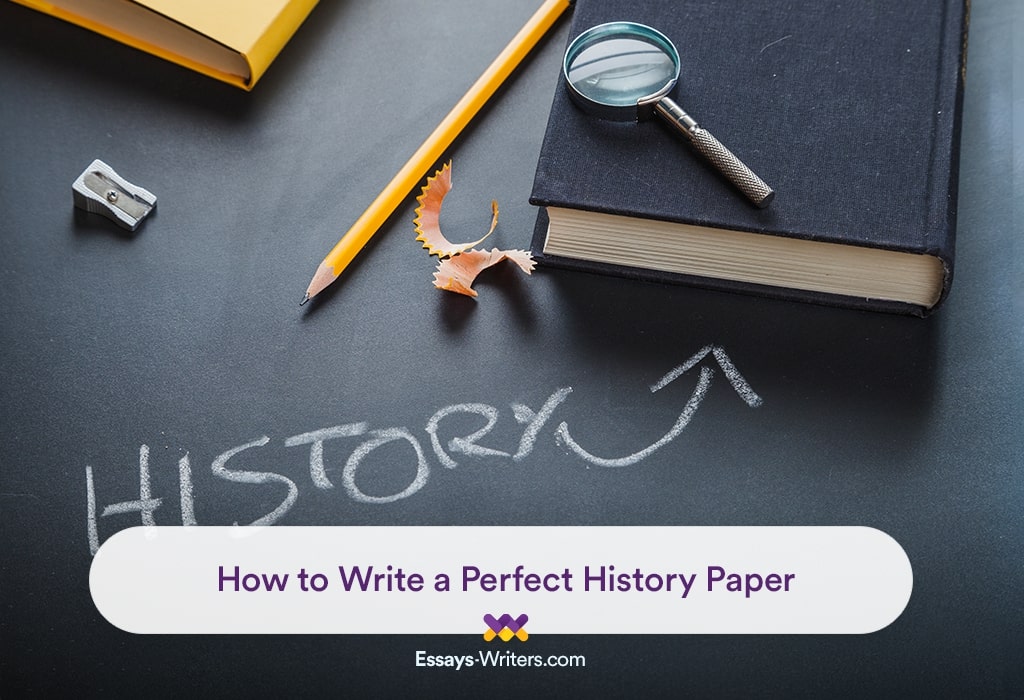 How to Write History Paper
Writing a history paper can be a pretty enjoyable experience if you know how to do everything right. No matter what topic you are going to uncover in your paper, you will need to apply a professional approach that will help you analyze it from different angles. A history paper is a document that should be written on a history-related topic. In the academic environment, such a paper is widely used for evaluating the student's knowledge on a particular topic, as well as assessing his or her writing, analytical, interpretive, and critical thinking skills. When working on such a paper, you should be ready to dedicate a great deal of time to planning, researching, and writing. If you want to succeed in writing a history paper, you will need to pick up an interesting topic, examine your question from different perspectives collecting relevant and credible data from authoritative sources, interpret your findings, as well as present the results of your work into a well-organized paper.
First-time customers get 15%OFF
Even if you are good at writing other papers, a history paper may puzzle you. Also, you should be ready that this task is pretty effort-consuming, thus you need to plan your schedule properly. In our efficient guide, we are going to provide you with a list of handy tips and suggestions that will help you write a flawless history paper and impress your tutor. Just follow our practices and you will not only create a winning document but you will also enjoy the writing process. Let us begin:
Study Your Question Carefully
This may seem obvious, but many students neglect this stage of the writing process. The best way to write a good history paper is to study the prompt provided by your tutor thoroughly. This way, you will be able to figure out what is expected from you. In case some points seem unclear, you should not hesitate to ask your tutor for guidance.
When it comes to writing a history paper, you may be asked to analyze, evaluate, or assess some historical event or figure. For instance, you may be asked to evaluate the main causes and consequences of some battles. Also, you may be asked to agree or disagree with some statement related to history or evaluate the significance of the particular historical event, person, etc.
To understand the prompt carefully, you will need to read it several times. If it is necessary, you may highlight the most important requirements that will help you figure out what you should concentrate on. By understanding what a problem you are going to address, you will be able to avoid paying attention to unnecessary or irrelevant details. If your tutor has allowed you to choose a topic, you will need to pick up the one that may help you create a high-quality paper. Ideally, this topic should match your research interests.
Carry Out In-Depth Research
When you are done studying your instructions, you will need to go to a library or find an online database that will help you collect as many academic sources as is required for the thorough investigation of your topic. Pay attention that if you want to add credibility to your work, you need to work with the most authoritative and peer-reviewed academic sources. All the thoughts and ideas taken from outside sources should be carefully cited in your paper because it will help you avoid plagiarism. As such, whenever you use some sources to back up your words, you should not forget to note all its bibliographical information that will appear in your reference list. If you have any doubts regarding the reliability of any source, you will need to ask your teacher for guidance.
Plan Your Work
As soon as your research is completed, you will need to brainstorm your ideas. Most probably, you have collected much information related to your topic. Now, you need to identify the main points that will appear in your paper. During brainstorming, you will need to create a thesis statement that will serve as a central idea of your essay. All the topic sentences that will appear at the beginning of the main body paragraphs will be related to your thesis. Also, it is highly recommended to create an outline that will help you organize all of your ideas and insights in a logical order. Although a lot of students consider writing an outline is just a waste of time, you should know that it will significantly facilitate the writing process. An outline is a great instrument in hands of a skilled writer, which allows focusing on the most meaningful aspects of the topic.
Develop a Contention
In a history paper, a contention is the main argument in the paper that should be developed throughout the whole paper. Ideally, you will need to think about your contention at some point in your research because these stages of the writing process are closely connected. By researching materials, you will be able to identify the gap existing in current knowledge and your contention will help you fill in this gap.
Plan Your Paper Structure
You should know that as well as any other academic paper, a history paper should follow a traditional structure that contains three main parts: an introductory part, the main body section, and a conclusion. If you are not sure how to divide your paper into these parts, you will need to look through some well-written samples of historical papers online. Although you are not allowed to use these samples as your creative work, you may use them for gaining a common understanding of the traditional history essay structure. Pay attention that you will need to use smooth transitions when moving from one part of your essay to another as they will ensure clarity and coherency of your work.
Start with Writing an Engaging Introduction
A lot of students consider an introduction the most important part of a paper and this claim is justified. The introductory part of your essay is the first part seen by your reader, thus it should be engaging, appealing, and attention-grabbing. An introduction will make the first impression on your intended audience. If you make it too boring, your reader may just put your paper away. Of course, your professor will be obliged to read your essay until the last lines but you should not expect a good grade for your essay if its introduction is too weak. As such, we highly recommend you not to waste much time including irrelevant information in your introduction. Try to get straight to the point and include a hook that will engage your reader from the very first lines. In case you need to provide your audience with a bit of context, you can add it into your introduction without going into too much detail.
Develop Your Topic in the Main Body
An introductory paragraph of your history essay will be followed by the main body part that will be divided into several paragraphs. If you are writing a standard five-paragraph essay, it means that you will need to divide your main body into three paragraphs. However, if you are writing a lengthy research paper on a history-related topic, there can be more paragraphs. Each body paragraph should begin with a good topic sentence. Then, you will need to write an argument related to the thesis statement and provide sufficient evidence to back it up. Whenever you need to include an in-text citation to support your claims, you will need to follow the formatting style requested by your teacher.
Finalize Your Paper with a Good Conclusion
A conclusion aims to summarize your discussion. By following the rules of academic writing, you should just wrap up your discussion without including new information. The way your conclusion is written depends on the nature of your paper.
Write a List of References
You should know that plagiarism is a serious violation of authorship rights that is strictly punished in many educational institutions. To avoid it, you will need to include all the primary and secondary sources you have used in your work. When writing your reference list, you will need to follow the guidelines of the citation style requested by your tutor.
First-time customers get 15%OFF
Proofread Your Paper and Send It on Time
Finally, you will need to spend some time editing your paper carefully making sure it is free from any mistakes. You should know that even if your ideas are pretty interesting, you will not get a good grade for your paper if it is full of mistakes compromising its quality. Therefore, you will need to review your paper once again making sure it is free from any mistakes. Finally, you will need to submit your paper on the due date. Pay attention that by missing your deadline, you will reduce your chances of getting a good grade for your paper. Thus, we highly recommend you plan your working process properly to avoid late submission.
Tips to Write History Paper
Use the third person. You should keep in mind that the first person is appropriate only when you are writing a personal essay. In case you are writing a research paper or any other sophisticated document, you will need to use the third person;

Include relevant facts. Whenever you use any facts and data to support your arguments, you will need to use the most accurate, credible, and relevant information. By including fake facts, you will not be able to get a good grade;

Avoid generalizations. Unfortunately, a lot of students add too many generalizations when they are working on history papers. By doing this, you will make your ideas too shallow, which will negatively affect your grade. Thus, we highly recommend you avoid statements that are too general and pay attention to this point when proofreading your paper;

Write in an active voice. In academic writing, an active voice is more preferable to a passive one. The active voice helps make sentences clear and accurate;

Avoid plagiarism. You should know that plagiarism is considered a crime in academic writing. If you submit a paper that is plagiarized, you will get a zero. Therefore, we highly recommend you check your paper through reliable plagiarism-detection tools to make sure you are going to submit an authentic paper.

Free Extras

Free revision (within 2 days)
Free title page
Free bibliography
Free outline (on request)
Free email delivery
Free formatting

We Guarantee

Quality research and writing
BA, MA and Ph.D. degree writers
100% confidentiality
No hidden charges
Never resold works
100% authenticity
24/7/365 Customer Support

Free formatting

12pt. Times New Roman
Double/Single-spaced papers
1inch margins
Any citation style
Fully referenced papers
Up-to-date sources
We are certain that by following our guidelines meticulously and adding creativity to the working process, you will be able to write a high-quality history essay. Even if your task seems too challenging or sophisticated, you can cope with it by organizing the writing process properly. If you are lacking interesting ideas to develop in your history essay, we are going to provide you with some topics that will foster your creativity.
Interesting Topics for History Papers
Have a look at some topics that will help you boost your writing inspiration and create a high-quality history paper.
French colonies: the ways of development;

Analyze the main causes of the Roman Empire collapse;

Social media and terrorism: historical overview;

A comparison and contact essay on Nikita Khrushchev and Winston Churchill;

Discuss the relationship between the industrialization and Civil War;

Analyze the key effects of the New York Slave Revolt.
If you are lacking the time or writing inspiration to work on your history paper, you can always rely on our writing service and we will do everything possible to provide you with an impeccable piece that will bring you the best grade. Cooperation with our writing team will become a great investment in your future because we produce academic papers that are well-written and free from plagiarism. Just make an order on our website and we will save you from the pressure!