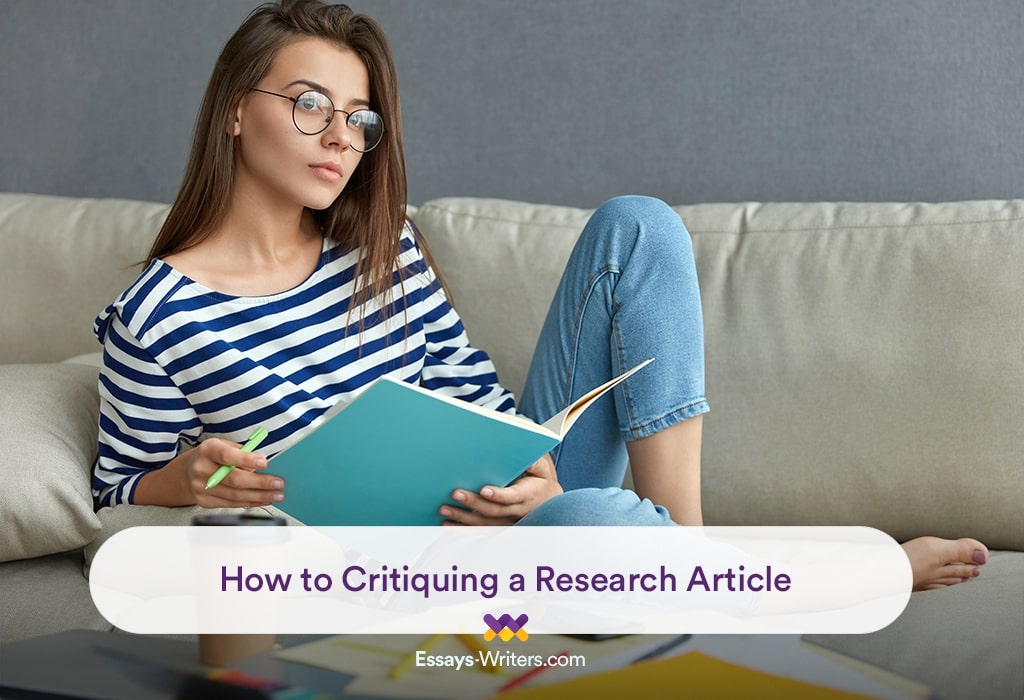 Not sure how to critique a research article? A lot of students ask the question, "What is an article critique?" Whether we are discussing a journal article critique or a critique of a scientific research paper, the goal is to assess the author's work and discuss whether the writer agrees with the arguments or main points being presented. Keep in mind that it is not enough to simply express an opinion; it must be strongly supported using reputable sources and other factual information.
As you go through the process of critiquing different types of research articles, keep in mind that the process goes beyond merely summarizing literature or a science research article. In fact, as you ask the question, "What is a critique of an article?" the stress should be on the "critique" part. As you read, for instance, a qualitative research article on social behaviors or quantitative research in the nursing article, you need to explain why you believe the author's logic is sound taking into consideration possible biases, misinformation (whether deliberate or otherwise), and the sources that they use. Once you have carefully scrutinized and read the text, it is time to take the next step and prepare the evidence.
Critiquing a Research Article
The first step to critiquing a research article is through active reading. If you truly know how to write a research article critique, then you obviously realize that you will not be in a position to evaluate the article if you do not understand it clearly. Keep in mind that a lot of scientific articles can be lengthy and contain terminology that you are not familiar with. For this reason, you will not be able to simply read it and reach conclusions.
You will need to look up words in a dictionary and, when you do not understand the information in the proper context, do some background research to get you up to speed. Examine the facts and details, and identify the thesis statement as well as supporting arguments as laid out by the author. You can use a note-taking app on your PC or device or print things off and use a yellow highlighter; it is up to you. As you are looking through, say, a medical research article, make sure that you can identify the following:
Research question/problem and goal of the study;
Hypothesis;
Research methods;
Participants in the research;
Variables;
Results/Main findings;
Conclusions.
Note that doing this will require you to read the article several times.
First-time customers get
15%OFF
The second step is to develop a preliminary outline after you have developed a thorough understanding of the article. Why is it labeled a "preliminary" outline? Because you still need to do some additional evaluation before you are ready to write a proper paper.
Research Article Critique
Now we have reached the third step of the research article critique: looking at the author's arguments and main points. At this stage, you should clearly understand that this type of paper is far more than just a summary of the article. You are examining it from a critical perspective. While this is not meant to be a persuasive essay, you still need to justify your critique. To accomplish this, you will need to explain whether or not you believe the author makes a strong case by looking through other articles about a similar topic.
The fourth step is to identify any contradictions that the author might have made. Keep in mind that a researcher's experience, background, and other factors could lead to biases whether or not their intentions are good. On the other hand, they might deliberately omit strong evidence that would call into question their arguments. There is also a possibility that they might misinterpret certain data. Finally, if you find that the author's sources are not particularly trustworthy, this would provide you with evidence that their case is weak.
Step 2
Safe and Secure
Payment Procedure
Step 3
Communication
policies
Step 4
Downloading the
Completed Order
Step 5
Leave your
Feedback
Medical Research Article Critique
Now we have reached the stage in which we can almost write our medical research article critique. At this point, you will have taken a lot of notes. This will definitely serve you well. Before you plow right into the paper, you can create a more enhanced outline that includes all of the information you uncovered through your research on sources. This outline will guide you because it will allow you to create a critique that progresses logically. After you have finished your outline, it is finally time to do the actual writing.
Write an introduction that provides some information about the article you are critiquing, including its title, the author, the publication where it can be found, and when it was published. As with all essays, you will include a thesis statement in which you state whether or not you agree with the author's work.
Write the body paragraphs, with each one expanding upon one particular point. This will be lengthier than your standard 5-paragraph essay, so it is perfectly acceptable to use subheadings. Start each paragraph with a topic sentence that is related to the thesis and then develop them further.
Write a conclusion in which you summarize your main points, discuss the broader implications of your work, and make recommendations for further research.
Once you finish your first draft, it is time to go back and edit. Make sure your paper is free of grammar and spelling mistakes since any mistake will hurt the credibility of your work. Familiarize yourself with how to cite a research article critique so that you are doing it properly. In particular, look at your professor's instructions to determine whether you need to cite your critique essay in APA format, MLA, Harvard, or whatever the case may be.
Conclusion
Writing an article critique of a research paper is not easy, to say the least. In fact, many students would probably argue that it is the most challenging assignment they can get, especially since it requires them to critically analyze a researcher who likely has more experience than the student does. On the other hand, it is a very useful essay because it teaches you how to look for the strengths and weaknesses of a person's arguments. This would ultimately serve you well whether you plan to become a scientist, researcher, or even a lawyer.